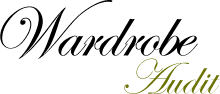 Do you open your wardrobe and think............
What on earth am I going to wear today?
Why did I buy that?
I don't have anything to match this?
I've got no space for my new things!
I always wear the same few outfits, I'm bored!
Does this all sound too familiar?
Wardrobe Audit is a service where Terri-lee visits you in your home to help you plan your wardrobe. She will help you sort out the clutter; see what works, what doesn't and what you need to put on your shopping list. Maybe you have some great pieces that just need alteration; they won't get to the dry cleaners if they are hung in your wardrobe! Terri-lee will help you co-ordinate outfits, mix and match items you already have and teach you how to accessorise to change the look.
Most people only wear 10-20% of their wardrobe; Terri-lee will guarantee you'll be wearing a lot more after the session and also create some much needed space for future purchases. She will arrange your wardrobe depending on what suits your lifestyle. It will save you time and money and help you avoid buying the wrong clothes. There is also an extra service available where Terri-lee will take images of you in the outfits she creates and puts them together in a report so that you can refer back to these.
Your questions answered:-
Wardrobe Audit works best after a Personal Image Consultation.
The session is 3 hours. Additional hours are available at a charge per hour. Mini Wardrobe Audits are available as part of a package.
See Prices and Packages for information.
Wardrobe Audit is available to both Men and Women.